Denso Protal
Does not shield cathodic protection
Liquid coating of girth welds and tie-ins
Liquid coating of welds for boring applications
Repairs to FBE, fittings and fabrications
Rehabilitation for in service pipelines
Coating of cadweld areas
Line travel rehabilitation
High Abrasion resistance for drilling application
Flexible to accommodate pipeline movement and expansion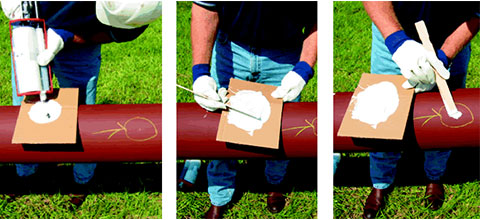 Pipeline Coatings
Protal 7200 High build, fast cure pipeline coating
Protal 7200 Repair Cartridge - Fast Cure Epoxy Repair Coating
Protal 7200 Cartridge (1000 ml) - Fast Cure, Spray Applied Pipeline Coating
Protal 7125 Low temperature pipeline coating
Protal ARO - Abrasion Resistant Pipeline Coating
3M™ Scotchkote™ Liquid Epoxy Coating 323
Powercrete Epoxy Coatings
Denso Portal
Denso Protal 7200 Fast Cure, High Build Pipeline Coating
High build, (up to 50 mils in one coat) fast cure epoxy coating with excellent adhesion that can be hand or spray applied to girth welds, tie-ins, fittings and rehabilitation of existing pipelines. It compliments FBE coated pipe as well as being useful as main line or sacrificial coating for directional drill and road bore pipe. Protal 7200 exhibits excellent cathodic disbondment properties at 175°F (80°C) with 7 mm disbondment and does not shield cathodic protection. It is noteworthy for its ease of application, in that it contains no solvents and is unaffected by light rain 3 to 4 minutes after application, allowing almost immediate handling and backfill times. Protal has a long and proven track record for reliability and environmental safety.
Denso Protal 7200 Repair Cartridge: 400ml and 50ML
Fast Cure Epoxy Repair Coating is specially formulated for patching and repairing damaged FBE and other liquid coated pipelines. The formulation is also ideal for coating of cadweld and other confined areas. Our Denso Protal 7200 repair cartridges come in both 400 ml and 50 ml sizes and are packaged in 2-component tubes that are applied with a dispensing gun (sold separately).